Parks Adventure Bus

Nature is Free. Seeing it can be too.
On select Saturdays, NFTA-Metro is sending out the Parks Adventure Bus to parks around the region.
Oh, and it's FREE. Yep. There is no fare for these trips, both ways.
This is nothing but fun.
---
Park Schedule
Click on a date for more info.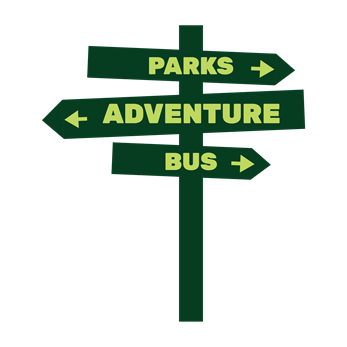 Free - The Adventure Bus and park entry is free to riders. 
Arrive 10 minutes early to board buses downtown and at all parks. All buses will depart and arrive at the Metropolitan Transportation Center (MTC) located at 181 Ellicott St.
Park rangers are on park grounds to assist you.
All parks have available bathrooms.
Follow all posted rules or signage for your safety.
Bicycle racks are on the front of every Metro bus, but only hold two bikes. It is first come, first served. Additional bikes will not be permitted on the bus. Bike parking and a Reddy Bike Share Station are available at the downtown bus station.
Wear warm shoes or boots
Bring a full water bottle, fully charged cell phone, and a backpack with a lunch or snacks
Wear a heavy jacket and pants and dress in layers
Proper disposal of trash and recycling is required
Pets are not allowed on NFTA-Metro vehicles or facilities; Service animals are always welcome
In case of emergency, call 911 and seek help from park rangers

Paratransit clients: Service to each park will also be provided on PAL for eligible riders. You can reserve trips arriving at the park at 9:00AM, 10:45AM, 12:00PM, 1:45PM, 3:45PM.  Vehicles will leave the park at 11:10AM, 12:20PM, 2:10PM, 4:05PM, 6:00PM. Please reserve your trips by the prior Wednesday.


Hey, did you ride the Parks Adventure Bus
?
Let us know how it went
. This survey will help us make your summer better.
Parks Every Day: 
You don't have to wait all year to go on an adventure! Take a look at the parks accessible all year by regular metro routes!
Parks Map