Black History Month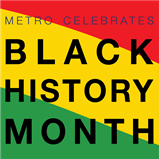 NFTA-Metro salutes Black History, which is our history. We are starting our recognition in February, which is Black History month, and paying tribute to our rich Black History here in in Western New York. Black History Month is an annual, national celebration promoting the many contributions African Americans have made to US history. During this month and beyond, NFTA-Metro will salute the vibrant Black legacies here on the Niagara Frontier, along with our many employees throughout the Authority.
---
This year, we start celebrating a month early, with a Call for Art.
Black Excellence Art Project
Deadline: January 23, 2022
Project Overview
The Niagara Frontier Transportation Authority, in collaboration with the WNY Urban Arts Collective, is seeking local artists to submit proposals for art that will be showcased on one or more NFTA-Metro busses, in honor of Black History Month. The theme is "Black Excellence", and artists are encouraged to be creative and inspiring. Images should be eye-catching, engaging, colorful, reflective of "What Black Excellence means to you" and Black History Month. Submitted artwork can be new or existing.
Thousands will see this piece of art as it will grace the streets of WNY. Within this space, there is an opportunity to contribute positively to the daily experience of the many people who utilize the NFTA-Metro services. By creating a vibrant and inspiring artwork for our bus, we hope to generate feelings of pride. Subsequently, the addition of this piece of work will continue to expand the growth of NFTA-Metro's public art experiences and to spotlight local artists.
If everything goes as planned, chosen art will be installed and ready for show in February - Black History Month.
Project Specifications
This Call for Artists is open to any artist residing in Western New York. The dimensions for the artwork that will be displayed on the side of our bus is roughly 199"W x 83.5"H. The final selection will be made by a committee chosen by the NFTA.
Upon selection, the Grand Prize winner will be paid a flat fee for their artistic contribution. Other artist's work may be used on the NFTA's social media platforms. All copyrights reserved for the NFTA.
Submission Requirements
Artists are required to submit the following for consideration (Maximum of two designs):
Name
Address
Phone
Email
Title of image
Description of proposed artwork
Bio, social media link, website
Artwork JPEG format file attachment
Save file as: firstname_lastname_NFTA_BHM_Proposal.jpg(jpeg)
Send to jonbak112@yahoo.com
Timeline
The deadline for submissions is January 23, 2022, by midnight. Beginning January 24, submissions will be reviewed by a selection committee from the NFTA and the WNY Urban Arts Collective. Artists will be notified of their submission status by January 27, 2022. *NFTA reserves the right to refuse any inappropriate content.
Contact
For general inquires or questions regarding this Call for Artists, please contact:
John Baker
President WNY Urban Arts Collective
The WNY Urban Arts Collective is partnering with the NFTA to assist with the planning and implementation of the Black History Month Art Project.