Ride Nice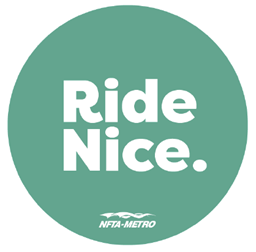 Ride Nice
NFTA-Metro launched the Ride Nice campaign in January 2023. Ride Nice is a proactive campaign to make sure riders are safe and feel safe on NFTA-Metro bus and rail vehicles. 
Ride Nice includes both an informational campaign and some physical and operational changes in the system. It involves:
Increased presence of Transit Police on the Metro Rail.
Installing fare gates in Metro Rail stations.
Education to let riders know how to call the police in an emergency.
Security cameras in more places.
Enforcement of no smoking and no vaping laws.
Code of Conduct
Ride Nice also includes publicity around NFTA-Metro's Code of Conduct. You'll see the Code of Conduct posted around the system in bright puzzle pieces.
Code of Conduct Examples:
Respect one another and your operator.
No smoking or vaping.
No eating or drinking.
Do not litter.
No loud or hostile conduct.
Use headphones with audio devices.
Don't touch others.
Keep bags on your lap or beneath the seat.
Pay your fare.
Service animals only.