Winter Ride Guide

Plan Ahead
Buses and trains run even during major snowstorms. However, in extreme circumstances, or if there is a driving ban, service may be affected or even discontinued.
Keep up to date on the status of your bus or train using these tools:

Get real time bus information using our Metro Messaging service. Text the number 25370, type Metro, hit the space key followed by the stop ID (ex. Metro 15660). Metro will text you back with arrival times.
Stop IDs can be found at the bottom of most bus stop signs and on Google Maps under stop information.

Local news and radio will report on major bus and rail disruptions.
During business hours, call Customer Care at 716-855-7211.

TTY/Relay 711 or 800-662-1220
Email: info@nfta.com
Plan Extra Time
During heavy snow and ice, buses, like all vehicles, must drive more slowly, and may fall behind schedule. Plan extra time for your trip, and consider taking an earlier trip than usual.
Be Prepared
Dress warmly in case you have to wait outside longer than usual. If it is dark, consider wearing reflective clothing, or using a flashlight or your phone to wave down your bus driver.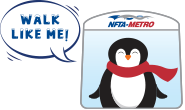 Stay Safe
In areas covered with snow and ice, or blocked by a snow bank, please wait at the closest cleared driveway or corner. Wave to the bus driver to signal the bus to stop. For your safety, avoid standing on top of snow banks or in the street.
When the bus approaches, stand back, and be aware of the side mirror, as it extends from the side of the bus.
Melting snow and ice can make bus floors slippery. Be sure to hold handrails when boarding, walking, or standing inside the bus.
When reaching your destination, the driver will stop at the bus stop or the nearest safe location.
Snow Removal
There are about 4,500 bus stops within the Metro system. Most bus stops are on public streets and sidewalks. Property owners or tenants are responsible for keeping bus stops clear of snow, just like fire hydrants. If your stop isn't clear, please contact your town or city for help.
Municipal Snow Contacts
Town of Amherst
Village of Angola
Town of Aurora
Village of Blasdell
Town of Boston
Town of Brant
City of Buffalo
Town of Cambria
Town of Cheektowaga
Village of Depew
Village East Aurora
Town of Elma
Town of Evans
Village of Farnham
Town of Grand Island
Village of Hamburg
Town of Hamburg
Village of Kenmore
City of Lackawanna
Village of Lancaster
Town of Lancaster
Village of Lewiston
Town of Lewiston
Town of Lockport
City of Lockport
Town of Niagara
City of Niagara Falls
Town of Orchard Park
Village of Orchard Park
Town of Pendleton
Village of Sloan
City of Tonawanda
Town of Tonawanda
North Tonawanda
Town of West Seneca
Town of Wheatfield
Village of Williamsville
716-631-7032
716-549-1126
716-652-7090
716-822-1921
716-941-6518
716-549-0282
311
716-433-8523
716-686-3465
716-681-4396 ext 129
716-652-6000 ext 219
716-652-3260
716-549-5787
716-549-0890
716-773-9600
716-649-0200
716-649-6111
716-873-5700
716-827-6464
716-684-4891
716-683-1610
716-754-8331
716-754-8213
716-439-9520
716-439-6665
716-297-2150 ext 136
716-286-4310
716-662-6410
716-662-9327
716-625-8833 ext 13
716-897-1560
716-695-8645
716-877-8804
716-695-8585
716-558-3202
716-694-6440
716-632-4120 ext 3002
Thanks for Riding!
No matter the weather, our goal is to get you where you're going as safely and quickly as possible.