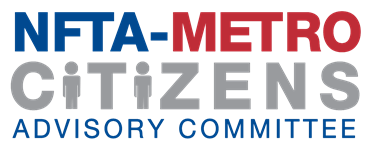 The Citizens Advisory Committee (CAC) is a group of 24 volunteer members (7 transit riders and 17 organizations representing transit riders) who meet with Metro management every 2 months to provide input on community transit issues.
These regular meetings provide opportunities for proactive, early, and continuing public participation for Metro projects, programs, and decision making.
Additionally, CAC members facilitate public involvement by sharing information about surveys, events, and other participation opportunities with their communities.
Apply to the CAC
You may apply to the CAC at any time. CAC applications are reviewed once a year, in December, but may be reviewed sooner if there is an open seat. Applications are kept on file for two years. 
Click here for the online application.
For a PDF / mail in application:
Applications may also be picked up  and dropped off at the Customer Service desk at the Metropolitan Transportation Center (MTC) at 181 Ellicott St, Buffalo.
Current members
The CAC is composed of 7 "riders-at-large" (people who ride the bus regularly) as well as 17 representatives from community, governmental, and philanthropic organizations who serve transit supportive and transit dependent populations.
Currently, the CAC includes the following organizations:
Belmont Housing Resources for WNY BNMC
Buffalo Transit Riders United
Buffalo Urban League
Citizens for Regional Transit
Coalition for Economic Justice
GoBike Buffalo
Health Sciences Charter School
Journey's End
NAACP - Buffalo
NAACP – Niagara Falls
NFTA Metro Operator (Frontier)
Niagara Falls Housing Authority
People Inc
SEIU 1199
University Heights Collaborative
WNY Independent Living