Next Bills home game: Sunday, January 22, 3:00 p.m.
Bus routes to Highmark Stadium for Bills home games for the 2022-2023 season. 
Fares
The cost is $5 for a one-way trip. You must pay in cash as you board the bus (exact change only) or through the Token Transit app. Click here for more information on Token Transit. Metro passes not applicable for this special service.
Key Information
This is express service. Buses will stop at designated transit centers only.
No drinking, eating, or smoking on the bus.
Headphones must be used with audio devices.
All riders must stay on the bus until the bus reaches the drop off location. Riders will not be permitted to get off in the parking lot before the designated bus stop is reached.
Priority seating at the front of the bus is reserved for seniors and people with disabilities. Please offer these seats to people who need them.
Routes and Schedules
Highmark Stadium Pick Up / Drop Off Locations
click map to view larger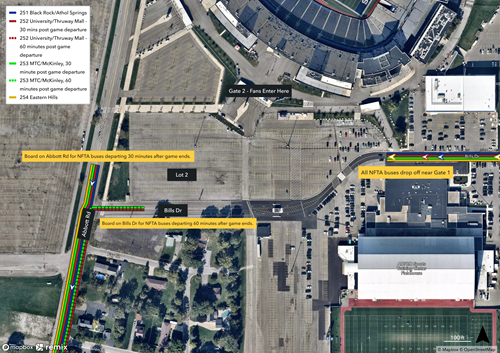 Service to Highmark Stadium will depart from the following locations and times. Buses will stop only at designated transit centers. Buses will not stop at regular bus stops along the way.
Schedules will be posted one week before home games
Current Schedule: Sunday, January 22