Paratransit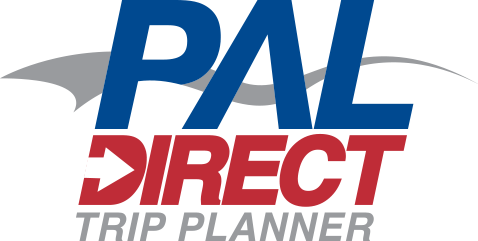 In accordance with Section 37.129(a) of Title 49, Part 37 of the Code of Federal Regulations (49 CFR 37.129(a)), NFTA-Metro's complementary Paratransit Access Line (PAL) service is a shared ride service that provides origin-to-destination transportation for paratransit eligible individuals under the Americans with Disabilities Act.
Eligibility for PAL is strictly limited.  You may be eligible for PAL if, because of your disability, you:
cannot independently board, ride or exit from any vehicle on the fixed route bus or rail system which is accessible and usable by individuals with disabilities.
cannot use an accessible fixed route vehicle, but the route or the accessible vehicle on the route that would be used is not accessible or usable, or the stop that would be used is not accessible or usable due to the physical characteristics of the stop.
cannot independently travel to or from the fixed route bus stop or rail station.
Reasonable Modification/Accommodation
Paratransit Access Line makes provisions to ensure that each passenger gets from his/her point of origin to his/her point of destination. PAL Operators are required to escort PAL clients to and from the PAL vehicle when a PAL client requests such assistance, unless doing so would create a direct and immediate threat to the health or safety of others.
PAL customers may also request a reasonable modification to NFTA-Metro's PAL policy and procedures. NFTA-Metro will promptly review and accommodate such request unless doing so would (1) cause a direct threat to health or safety of others (including the PAL Operator but excluding the PAL client making the request), (2) result in a fundamental alteration of service, (3) create an undue financial and administrative burden to NFTA-Metro, or (4) be unnecessary for the PAL client to use PAL service. Such requests may be made in-person or by telephone, e- mail or other form of correspondence.
PAL Operators are not permitted to carry packages, operate any motorized mobility aids, or leave the PAL vehicle unattended except to escort a PAL client to and from the PAL vehicle.
Service Area
NFTA-Metro provides a level of complementary PAL service that is comparable to the level of service offered on its fixed route bus and rail systems. The complementary PAL service is provided within 3/4 of a mile of an NFTA-Metro bus route or rail station during the same hours and on the same days as the NFTA-Metro fixed route service. This does not apply to commuter or express route service. If your home address is beyond the service area, this does not mean you are not eligible, it means PAL will not be able to provide a pick-up or drop-off at your home address. You can arrange for us to pick you up in a safe location within the service area.
Hours and Days of Service
PAL operates during the same days and times that the regular bus and rail system is available in an area.
Trip Length
PAL is a shared ride service and a direct trip to and from a destination is not guaranteed. A trip on PAL will be comparable to the duration of an identical trip taken on the fixed route service. Comparable includes all factors such as, travel time to the bus stop and/or rail station, waiting time, actual riding time, transfers and travel from the stop to the destination. This standard exists except when circumstances are beyond the NFTA's control (including inclement weather, and factors constituting traffic delays).
Ride Reservations and Cancellations
To take a trip you must first apply and be certified as eligible for NFT-Metro's Paratransit Access Line (PAL Customers can schedule, confirm or cancel trips using PAL Direct, our automated reservation system. PAL Direct is available 24 hours a day, 7 days a week at paldirect.nfta.com or by calling 716-855-7239. ADA Controllers (Reservation agents) are available 7 days a week 8:00 a.m. to 4:00 p.m. If you need assistance while using PAL Direct, press 0 to be transferred to an ADA controller. Reservations can be made up to 14 days in advance, but no less than 4:00 p.m. the day prior. Keep in mind that PAL can only provide trips at times that mirror the fixed route.
Waiting for Your Ride
Please be ready to board the vehicle at the beginning of your 30-minute pick-up window. Bus Operators are instructed not to arrive before the start your pick-up window, however, the PAL vehicle may arrive any time during your 30-minute pick up window. Once the vehicle arrives, the operator is allowed to wait no more than 5 minutes. Have your PAL identification card ready to show the bus operator when you board the vehicle. If your pick-up window has passed and the vehicle has not arrived, you may call the reservation line at 716-855-7239, option #2 and ask for an estimated time of arrival.
Companions
A companion may travel along with the PAL customer as long as the companion and the PAL customer have the same origin and destination. Additional companions may accompany you on a trip on a space available basis. Be sure to add all companions when making your reservations. Companions pay the same fare as the customer.
Personal Care Attendants
Customers who are unable to travel independently may travel with a Personal Care Attendant (PCA). Your application for PAL service must specifically state that you need the assistance of a PCA. Personal Care Attendants ride for free and must have the same origin and destination as the customer. Be sure to add a PCA when making your reservations.
Application Process
Applications for service are available Monday through Friday from 8:00 a.m. to 4:00 p.m. at:
Metropolitan Transportation Center
181 Ellicott Street – PAL Customer Service
Buffalo, NY 14203
You may also download a copy from our web site at metro.nfta.com or call PAL Customer Service at 716-855-7268 to have an application mailed to you.
Your eligibility status will be determined in writing within 21 days of receipt of a fully completed application.
Completing a PAL Application
PART 1 of the application must be completed and signed by all applicants. If you are unable to complete the application, someone else may complete and sign it for you.
PART 2 of the application must be completed by one of the certified or licensed healthcare professionals listed on the application, who is able to determine your functional capabilities. This Health Care Professional must be treating or evaluating you for your disability.
Visitor Eligibility
Visitors to the area who are eligible for ADA paratransit service in their home communities; or visitors whose disabilities are apparent; or visitors who do not have paratransit eligibility documentation from their home communities and whose disabilities are not apparent yet can provide other documentation of their disability; may ride Paratransit Access Line for up to 21 days in a 365-day period.
Out of town visitors wishing to use Metro's Paratransit Access Line are requested to contact PAL Customer Service prior to their arrival. 
To get the process started, please call the PAL Customer Service at 716-855-7268 or send an e-mail to PALfeedback@nfta.com. 
Visitor status is good for any combination of 21 days during a 365-day period. If more than 21 days of service is needed, the visitor must apply for eligibility to continue using PAL.
Service Animals
Service animals, including guide, hearing ear and service animals for persons with physical disabilities are always welcome on PAL.
Mobility Aids
PAL vehicles can transport individuals who use a wheelchair or scooter as a mobility aide. Mobility aids cannot exceed 30 inches in width and 48 inches in length when measured two inches from the ground and cannot exceed 800 pounds when occupied.
Fares
One-way fares are paid when you board. Bus operators are unable to accept round trip fares. A PAL fare is double the fare on the fixed route system. Please have exact fare, operators are not able to make change.
NFTA's PAL Pass
PAL clients and interested agencies can purchase a fixed number of rides with the same discounts offered to regular Metro Pass holders.  The pass is simply hole punched by a Paratransit Operator each time the customer boards the vehicle.  The card can be discarded once all the numbers are punched.
Small Price, Huge Savings
10 Trips - $35
20 Trips - $70


PAL Pass is Available Through:
Token Transit (a smartphone app)
Ticket vending machines (cash only) located at:
All Metro Rail stations
Metropolitan Transportation Center in downtown Buffalo
181 Ellicott St, Buffalo, NY 14203
Portage Road Transportation Center
1124 Portage Rd, Niagara Falls, NY 14301
Transportation Center in Niagara Falls, 2180 Factory Outlet Blvd Niagara Falls, NY 14301
To acquire PAL Pass by phone call (716) 855-7200. Metro accepts Discover, Visa or Master Card. Checks, money orders and credit card transactions may be mailed with a PAL Pass Transaction Form.
PAL Pass can be purchased on our website, and are handled through PayPal.


PAL Pass Restrictions:
The PAL Pass is valid for existing PAL transportation service by the purchaser with valid ID.  The pass is not redeemable and may only be used by one person on any one trip.
For more information about the NFTA Paratransit Access Line, contact the customer service office at:
PAL/ NFTA
181 Ellicott Street
Buffalo, NY  14203
(716) 855-7268 / (716) 855-7377 TDD
Cash office: (716) 855-7200
Information in Alternative Formats
All public information materials are available in large print, audio recording and braille upon request. Please contact PAL Customer Service Office.
We would like to know what you think about our service and encourage comments about PAL service. Commendations and concerns can be registered by contacting one of the following:
PAL Customer Service
716-855-7268 (voice)
716-855-7239 – option #8
1-800-662-1220 or 711 (relay)
palfeedback@nfta.com
Please report Americans with Disability Act violations to:
NFTA ADA/EEO Administrator
181 Ellicott Street
Buffalo, NY  14203
NFTA-Metro is undertaking a study to comprehensively evaluate its Paratransit Access Line (PAL) service. Click here for more information on the study.